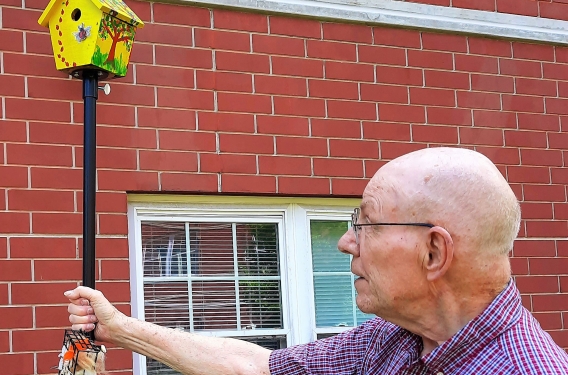 What does it mean to become part of the community where God has placed you? For Arlan Menninga, it has meant everything from leading a Bible study to building birdhouses.
In November 2019, Arlan Menninga moved into his retirement community, a large brick building with 150 private apartments in Tinley Park, Illinois. In some ways, Arlan said, it's like a college dormitory. The residents run into one another in the hallways, lounges, laundry rooms, dining hall, and yard.
"It's a wonderful group of people," said Arlan. "We have people who walk a lot, some of whom carry candy with them. There are people who sit in the lounges and talk with each other. There are some people whom we hardly ever see outside of their apartments."
A number of residents gather regularly during afternoons and evenings to play cards and table games, like dominos and Phase 10. Arlan has become a staple in this group, and it's one of the ways he builds friendships—but he's also on the lookout for more ways to foster and build community.
That's one of the reasons Arlan joined the Go Local cohort at his church. A Resonate Global Mission initiative, Go Local coaches believers through a process of learning how to discover and join in where God is at work in their neighborhoods and communities.
Arlan has served in ministry as a pastor, chaplain, and director of a ministry in both the Christian Reformed Church and the Reformed Church in America. He has been practicing Go Local's approach to ministry for much of his life. Even though he's retired from formal ministry roles, he's not finished with ministry. Arlan sees his retirement community as a new opportunity to share Christ's love and build God's kingdom, and Go Local has helped to inspire him to look for ways the Holy Spirit is calling him to be part of his community.
"One of the things that attracted me to [Go Local] was the phrase that I heard so often [in ministry], and that is, 'Look for where God is at work in your neighborhood and join him,' said Arlan. "The most important thing that you do in your neighborhood is listen and respond to what you're hearing out there."
Like in all neighborhoods, morale in the retirement community can be low sometimes. For several months this past year, Arlan noticed people were feeling down.
And then, God provided an opportunity. During a conversation with a friend and resident, Arlan mentioned he missed hearing wrens singing. In the home he owned, he built bird houses. The wrens, in turn, built nests. He could watch the wrens care for their young and listen to their songs all day.
The conversation took wing, and the residents decided they wanted to attract wrens to their yard. Arlan worked with the community's activity coordinator to organize a project. He built eight bird houses, and then residents came together to paint the houses, many of which are bright colors. Arlan and another resident posted a few of the bird houses on poles and strung the rest from tree branches.
"If we build it, they will come … next year," said Arlan.
He notes that it could take two or three years for wrens to move in—but the bird houses have helped to lift spirits while residents wait for the birds' arrival.
"That's a gift of the grace of God. That's a good thing that happens. It doesn't have much 'God talk' associated with it, but it's a good thing," said Arlan.
When the wrens do come, the community plans to celebrate with a "Blessing of the Birds" party. In the meantime, Arlan will continue leading the Bible study that a few residents asked him to organize. He was also asked by the retirement community to form and serve as the president of a new Resident Advisory Council.
"Arlan is living out what he believes. Following the Spirit means listening and then taking the next step, and then the next step, and then the next," said Ruth Kelder, a Resonate local mission leader who facilitates the Go Local cohort that Arlan is part of.
For Arlan, it's all part of becoming part of his community.
"That becoming never stops," he said. "It changes from month to month and year to year and person to person, but it's always a matter of seeing opportunities for ministry that are in a way uncharted, and you're breaking new ground all the time. You live with the confidence that the Spirit is guiding you."
Learn more about Go Local and joining a cohort (or starting a cohort at your church) at www.resonateglobalmission.org/golocal