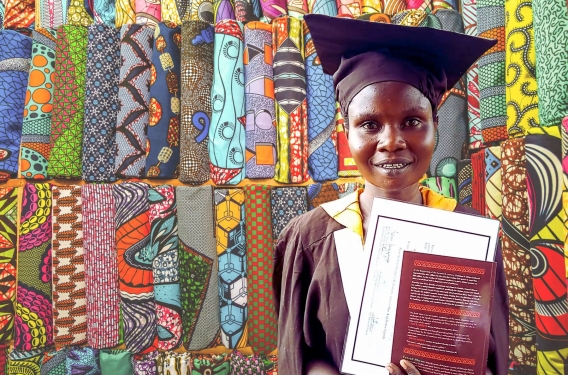 After Rose's husband left, she wasn't sure how she was going to provide for her children. You provided training that helped her build a better life.
One day, Muduwa Rose's husband didn't come home from work.
At first she worried that something bad had happened to him—but she soon learned that he had left Uganda to live in Kenya with another woman. He wasn't coming back home, and Rose was left to care and provide for their five children. Alone.
Rose felt a knot in her stomach. She wasn't sure how she was going to make ends meet. Her husband had always worked while she stayed home to cook, clean, and take care of the kids. She looked for work, but she had never had training in skills outside of raising a family. And who would take care of the younger kids while she worked? How would she afford childcare?
With nowhere to go and no family to depend on, Rose asked for extra support from the community, but her neighbors didn't have much extra food or money to share. Feeling like a burden, she stopped asking for help.
She could no longer afford to send her children to school, and they started eating only one small meal a day.
"Rose was always feeling rejected, abandoned, desperate," said Stephen Omoko, one of your Resonate ministry leaders in Uganda. "She began to develop suicidal thoughts . . . but she could not abandon her children."
Then one day, in church, Rose's pastor shared about training that you helped to make possible.
You Provided Training
Training for pastors is hard to come by in Uganda. Not many pastors have an opportunity to attend seminary. That's why you help to equip pastors and other church leaders for ministry through Timothy Leadership Training (TLT). 
Rose is not a pastor, and she never really considered herself a leader, but she signed up for the training. 
"She did not join the training for skills . . . she was looking for something to occupy her mind," said Stephen.
But God worked through the TLT training you provided to change Rose's life and the lives of her children.
I have seen God working in Rose. She has been able to care for her children; her giving in the church has increased; and she has also been able to help her neighbors who are in need.
In the first TLT session, Rose worked through the manual Caring for God's People. Your ministry leader Stephen walked Rose and the other trainees through the lessons. They read from the Bible, pondered questions, and more. But it didn't stop there. Through TLT you help people like Rose put Scripture and faith into practice. Stephen's goal from the start was to equip Rose to improve her life.
One reason TLT is so effective is because trainees like Rose learn how to create an action plan. Stephen worked with Rose on developing an action plan to help her provide for her children by learning how to tailor.
For the first time in a while, Rose felt hopeful that things would be okay.
God Is at Work
Rose didn't have a sewing machine, but she was determined. She asked her neighbor to teach her how to sew, and her neighbor generously agreed. After hours and hours at her neighbor's sewing machine, Rose eventually knew enough to take on some projects in her community.
Because Rose is borrowing her neighbor's sewing machine when her neighbor isn't using it, Rose has been working odd hours, but she's able to make about 10,000 Ugandan shillings (about 2.70 USD / 3.50 CAD) per day. It's enough for her family to have plenty of food to eat—and for her children to go back to school!
"I have seen God working in Rose," said Stephen. "She has been able to care for her children; her giving in the church has increased; and she has also been able to help her neighbors who are in need."
Rose says "thank you" for bringing TLT training to her community! Because you and your community have been kind and generous to her, it's important to Rose that she gives back to her neighbors. She has become an advocate for TLT and a leader in her community. She asks you to continue praying for her and her family. She hopes to purchase her own sewing machine soon so that she can grow her business.