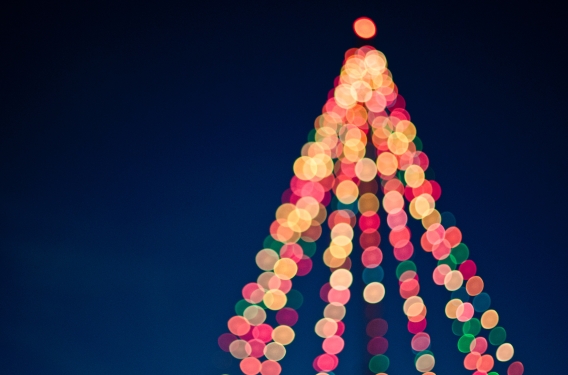 What does it look like to share peace with the people in your neighborhood? Here are 12 practical ideas.
In Luke 10, Jesus sends out "the seventy" and tells them to share peace. In the midst of the Covid-19 pandemic, natural disasters, and political divisions and disagreements, the world needs the peace of Christ. So, what does it look like to share peace with the people in our own neighborhoods, where Jesus is sending us? Here are 12 practical ways you can do just that.
1. Pray. Thank God for the opportunity to share peace with your neighbors (Luke 10:5). Ask the Holy Spirit to help you be a person of peace and comfort, a non-anxious presence, among your neighbors.
2. Make simple Christmas greeting cards for your neighbors that include a personal note of gratitude and encouragement. As you do, think about what you can repurpose and reuse. Cut out the illustrations from last year's cards, decorate with scrap ribbon, yarn, wrapping paper, colored paper scraps, and small buttons or beads. Try to avoid buying anything new! If coronavirus pandemic protocols allow, have a card-making party with your neighbors and share your craft supplies (another way to steward resources). Share some drinks and snacks, and as the Holy Spirit leads, have a conversation about peace. Discuss: What has brought you and each of your neighbors peace over this last difficult year? What does peace mean to you and your neighbors?
3. Encourage and express your appreciation for the staff at your local school, daycare, seniors' residence, or other local organization. Prepare a tray or basket with homemade treats, or perhaps some ready-to-eat fruit or special beverages (like apple cider or festive sodas). Drop it off with a Christmas greeting and note of gratitude.
4. Find out what's going on in your neighborhood and join in. Is the community or neighborhood association hosting a holiday get-together, a kids' time, an artisan's market, a skating party? Invite some neighbors to join you there. 
5. Plan a local outing together with a neighbor. Head to the playground, the toboggan hill, the local library, or another neighborhood meeting place. Maybe you could go for a walk to admire all the Christmas lights and decorations on your neighborhood streets!
6. Extend an invitation to the neighbor or neighbors you've been meaning to get together with. Why not book a date to eat together this week? Keep it simple and informal.
7. Volunteer with a neighbor to help set up or clean up at an event in your neighborhood. Those are always the hardest volunteer slots to fill.
8. Offer to babysit. Invite another neighbor to join you in offering to babysit for a family or two so that the parents can go shopping or on a date.
9. Offer to drive a neighbor, who is unable to do so on their own, to an appointment or to run some errands. Get to know one another better as you travel back and forth.
10. Have a neighborhood baking exchange. Have everyone bring two dozen of a favorite homemade holiday treat and an empty cookie tin or plastic container.  Participants then pick 24 different goodies to take home, which means everyone has a nice variety of holiday treats! Serve drinks and visit with one another ... you might want to exchange recipes as well! 
11. Begin a "You've Been Socked" initiative in your neighborhood. Put a few treats, a small Christmas decoration or tree ornament in a small stocking (all of which can be handmade or purchased with minimal cost so you can keep it simple and replicable). Secretly leave it at the door of a neighbor with the instruction sheet and "poster." If possible, sock a few neighbors at once to get the initiative going. Choose neighbors you think are most likely to participate and pay it forward—and watch for the socking to spread! 
12. "Light the Night." On December 21st, Light the Night to encourage everyone on the shortest day of the year. Create a parade of light in your neighborhood green space by having your block or your whole neighborhood (small group, congregation) make luminary candles. (We made sets of ten for each household and then sold them as a fundraiser for a local center that helps people with housing, food security, community building, etc.) Set a time to meet outside, light them all, and enjoy the display together. If possible, serve hot chocolate!
Written by Karen Wilk, a Go Local catalyzer for Resonate Global Mission. Interested in more ways to connect with your neighbors and join God on mission? Learn more about Go Local at www.resonateglobalmission.org/go-local