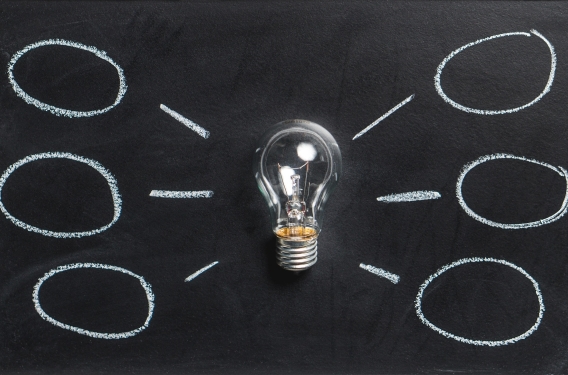 What would happen if we applied innovation to mission? Innovation is an important part of Resonate's work as we partner with churches to spread the gospel. So, how do we innovate in mission? Here are ten ways.
This summer I visited The Henry Ford Museum of American Innovation in Dearborn, Michigan. We took a tour of the factory and I watched the assembly line from above as they built F-150 trucks. An amazing process. The Ford story is all about innovation in business and industry. Around the same time, I visited a church that is ministering to their community in Chicago in new ways—and that's innovation too.
What would happen if we applied innovation to mission?
Innovation is an important part of Resonate Global Mission's work as we partner with churches to spread the gospel. So, how do we innovate in mission? Here are ten ways.
1. Innovation Experiment Grants
Resonate offers innovation experiment grants where people who have a new or unique idea to engage people with the gospel can receive up to $5000 for a ministry project. Sometimes a little seed money is all it takes to get something off the ground! It isn't only about the money though. We also meet together with other experimenters to process and reflect on what we are learning together. Even if something doesn't go as planned, we still can learn from the experiment. The learning is as important as the funding! From playgrounds to internet radio, these experiments have been a great opportunity to try new things.
2. Innovative Networks
Journeys into Friendship is a community of believers who are learning together what it means to build relationships with people from cultures and faiths that are different from your own. Journeys into Friendship is a bit of an experiment as we encourage barrier-crossing friendship—the kind of friendship that brings change. We are always learning about ways to center our network on those who do not have a voice, the marginalized, and the powerless. Friendship is a way towards mutual benefit and flourishing.
3. Interfaith Work
The Al Amana Centre in Oman is a leader in the area of peace building and interfaith relations. A Resonate partner, the Al Amana Centre is a great resource for both the Christian Reformed Church and Reformed Church in America. How does interfaith work fit into a mission agency? How do we dialogue together and witness clearly to the hope we have in Christ? A holistic gospel makes room for interfaith friendships.
4. Witness Work
For many Christians in Africa and Asia, the word "missions" has a colonial history that is even traumatic for some. As a mission agency in the 21st century, how do we decouple colonialism from our present day mission work? 
5. Geography
Today, mission is from everywhere to everywhere. Missionaries are coming from Africa to Canada and the United States. Missionaries are going from one African country to another. Missionaries are sometimes folks who have immigrated to Canada and the United States and then are called back to their home countries. Mission looks very different now than even fifty years ago. For example, Nasser and Sylvie are Resonate missionaries living in Canada with a global outreach to Iranians.
6. Multicultural Church
There are many congregations sharing the same building, meeting separately in the morning and the afternoon and even the evening. Willowdale CRC is a congregation that decided to combine and be one church, with English speakers and Farsi speakers together on Sunday morning. God is the host and all are guests. The multicultural church is already living out the picture of God's people in Revelation 21 and the tension between the already and the not yet. Sure, there are challenges, but with God's help these challenges can be overcome. We have a community of practice for those who want to share their work in multicultural settings. (Contact Greg Sinclair for more info at gsinclair@crcna.org.)
7. Changing Neighborhoods
We know that many of our churches have people living around them that do not know Jesus as Savior or have disconnected from the church. We call this the rise of the "nones." Helping congregations with the tools for connecting with their neighborhoods is part of Resonate's Go Local, an opportunity for people to explore what it means to join God on mission in their own neighborhoods.
8. Church Planting
There are now many different ways to plant a church! Micro Churches are just one example. Resonate partners with church planters, classes, and established CRC congregations to plant unique expressions of church.
9. Ethnic Minority Mission Leaders
One of the fastest ways the Christian Reformed Church is growing through evangelism is through ethnic minority church plants. Leaders from ethnic minorities play an important role in the growth of our churches and the spread of the gospel. This is a big area of growth as we come alongside our Latino, African American, First Nations, Native American, Korean, Chinese, South East Asian and Pacific Islander brothers and sisters and allow them to show us the way.
10. Revitalization of God's Church
All of these things advance God's mission but they have another effect. They bring revitalization and renewal to God's church. This is something worthy of our support and prayers. Resonate ministry leaders throughout Canada and the United States are ready and eager to work with CRC congregations to help strengthen their capacity to follow God on mission.
Greg Sinclair is Resonate's diaspora ministry leader.