Regional Mission
Coaching Opportunities
Are you a ministry leader looking for someone to come alongside you to help your thrive in ministry? One of the trained coaches in the Central US region are ready to be in a coaching relationship with you.

How Does Coaching Work? Coaches listen first and then ask powerful questions to help you hear the Spirit's leading and become "un-stuck" in the leadership challenges you face. You will be encouraged in goal-setting and in taking responsibility for the goals you set.
Some of the coaches listed below have gone through foundational coach training. Some have training and experience in special areas such as church planting, parenting churches, healthy churches, or Gallup StrengthsFinder coaching.
Because coaching is primarily done over the phone, geographic proximity to a coach is not an issue. The fee is set by the coach based on the situation.
If you have questions about setting up a coaching relationship, or if you would like to consider training to become a coach, please contact Ruth Kelder at rkelder@crcna.org. You may also directly contact one of the coaches listed below.
Pedro Aviles
Email: pedro.aviles@ebenezer-crc.org
Languages spoken: English, some Spanish
Location: Chicago, Illinois
Coaching experience: I have experience with church planters and pastors of existing churches. I have been very involved in leadership training of laity, deacons, and elders.
Coaching type: Church planter coaching and parent church coaching
Methods of coaching offered: Face-to-face, Google Hangouts
Meyers-Briggs results: INTP
StrengthsFinder results: Learner, Futurist, Arranger, Connectedness, Positivity
Hobbies: Fishing, listening to music, reading sci-fi and fantasy novels
Cost for coaching: To be determined between coach and coachee
Joel A. De Boer
Email: jdeboer@crcna.org
Coaching experience: I have been coaching pastors and church for two years now. I have had formalized training in Coaching from Foundational Coaches Training led by Meredith Neiwsma; and Jeff Boer through Connection's Project.
Coaching type: Rural Ministry, Leadership, Community Impact & Reputation Resourcing, Church Discipleship Process, Pastor's in First Ministry.
Cost for coaching: No Cost for those involved in Connection's Regions of the Midwest;
Contractual Agreements of Cost set after first interview.
Fred DeJong
Language Spoken: English
Location: Plainfield, Illinois
Coaching Experience: Certified coach, Certified Church Planter Coach
I have formally, and informally, coached pastors, staff and lay people in a variety of church settings (CRC and RCA). I have been coached or mentored for more than 5 years
Coaching Values and Approach: Relational style, applying spiritual discernment to help a coachee assess their situation, identify goals and develop strategic steps to achieve desired outcomes. Along the way provide personal encouragement and spiritual support.
Coaching Type: Church planters, Churches desiring to become more missional, general pastoring or church effectiveness issues
Methods of Coaching Offered: FaceTime, Skype, Google+ Hangout, other web based conferencing, phone, in-person
Meyers-Briggs: ENTJ
Hobbies: Running, Golf, Reading
Cost for Coaching: To be decided with the coachee
Ruth Kelder
Email: rkelder@crcna.org
Language spoken: English
Location: Joliet, IL (Chicago area)
Coaching experience: I have coached ministry leaders and those who lead discipleship ministries for the past 15 years. During this time I have also coached many leaders, leadership teams and teachers using Gallup's StrengthsFinders approach. My years as a church planter spouse and serving on staff in two church plants has given me an understanding of the unique challenges and opportunities church planters face.
Coaching values and approach: During coaching, both coach and coachee have one ear turned toward the other and one toward the Holy Spirit in order to discern the Spirit's direction. Coaching engages the art of listening and asking great questions with a goal of empowering the leader. The coachee sets the agenda for each session and leaves the session with defined action steps. Church planters are coached using the Church Planting Storyboard. All are coached according to the natural strengths and talents God has equipped them with (StrengthsFinders).
Coaching type: Church planter coaching, ministry leader coaching, discipleship strategy coaching, StrengthsFinder Coaching
Other Certifications: Spiritual Director, StrengthsFinder Coach
Methods of coaching offered: Face-to-face, phone, Skype, FaceTime, Zoom, Google hangouts.
StrengthsFinder results: Maximizer, Futuristic, Activator, Arranger, Developer
Hobbies: Biking, traveling to visit kids and grandkids, gardening, exploring Chicago, Starbucks addict
Cost for coaching: To be determined between coach and coachee
Go Local—a journey to discover and join God in our neighborhoods
Many in our churches today realize that there is a disconnect between their congregation and their communities. The Go Local Initiative is a process by which participants learn and discern new ways to join God in their neighborhoods and follow God in mission together.
This grassroots shared action-learning journey equips congregations, clergy, and classis leaders to discern, design, and participate in learning experiments grounded in Scripture and prayer, and rooted in the following convictions:
God is the primary actor and agent in the church and in the work of a local congregation.
God's future is among God's people. We believe that the answer to the question of how to discern and join with God in the local ...is already among the people of a congregation.
Discernment is key.
Adaptive change is cultivated through an engagement with a set of simple, repeatable practices that teach, transform and equip us.
Why this process works and what has been learned
Go Local is not a model or a program but rather a communal discipleship process which helps us (re-)engage Christian practices and join God at work in our communities. Participants learn about discerning God's actions in their neighborhoods by doing their own work of designing experiments, testing them out and then reflecting on what they have done together. The practices cultivated, shared and learned from, then become internalized such that participates can continue the process on their own and invite others to join them!
To find out more about the Go Local Initiative please contact us:
Peter Kelder: Regional Mission Leader
pkelder@crcna.org; 815-690-2408
Ruth Kelder: Go Local Catalyzer
rkelder@crcna.org; 815-690-2410
Global Coffee Break and Bible Discovery
Coffee Break is small group Bible discovery for evangelism and discipleship. The name "Coffee Break" expresses the relaxed and conversational small group atmosphere. In a Coffee Break group, participants discover for themselves and with others what the Bible says and means. The conversations are shaped by questions which help the group explore the main ideas and basic truths of the passage. Discover Your Bible study guides are appropriate for all levels of Biblical knowledge and faith experience. Many are being translated into a variety of languages to be used across the globe or with new neighbors coming into our communities. For more information about Global Coffee Break check out www.crcna.org/CoffeeBreak or contact your regional Coffee Break Coach and Trainer, Ruth Kelder at rkelder@crcna.org.
Bible Discovery Method
Many small groups are committed to helping people discover the message of the Bible, no matter where they are on their spiritual journey. The Leading Bible Discovery workshop may be valuable training for your small group leaders. Leaders will practice asking transformational questions, come to understand the variety of people who make up their groups, and take a look at their role in leading Bible discovery. Contact Ruth Kelder at rkelder@crcna.org for more information.
Deeper Journey
The Deeper Journey encourages participants to encounter God and deepen their intimacy with the Father, Son, and Holy Spirit through the exploration of ancient practices and disciplines. Its goal is to restore the soul of leaders and Christ followers who live under the pressure and weight of never-ending to-do lists and expectations from those we serve. Deeper Journey is a learning community for those who long to rekindle their first love and engage in spiritual rhythms to increase their awareness of God's presence more fully, to hear His voice more clearly, and to experience His love and grace more deeply.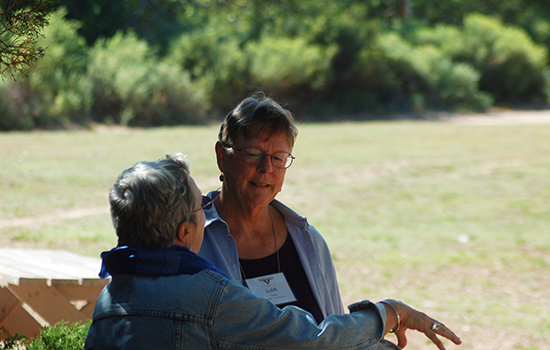 The Deeper Journey is a two-year commitment to attend eight retreats from a Sunday evening through Tuesday noon. Participants engage in learning as a large group, small group community communal worship, and practicing the spiritual disciplines between retreats. Each retreat includes an extended time for solitude and silence.
See deeperjourney.org for a more complete description. A new Deeper Journey community will form in 2018. Feel free to contact Ruth Kelder at rkelder@crcna.org for more information.